A brief introduction to the punch of tablet press
A brief introduction to the punch of tablet press
The tablet press punching die is also the most commonly used tablet equipment tablet press on an indispensable accessory. It is also a very important work to choose the appropriate punching die correctly after the purchase of the tablet press. In many tablet pharmaceutical factories, the tablet press purchased can not be used normally because of the improper selection of the punching die. .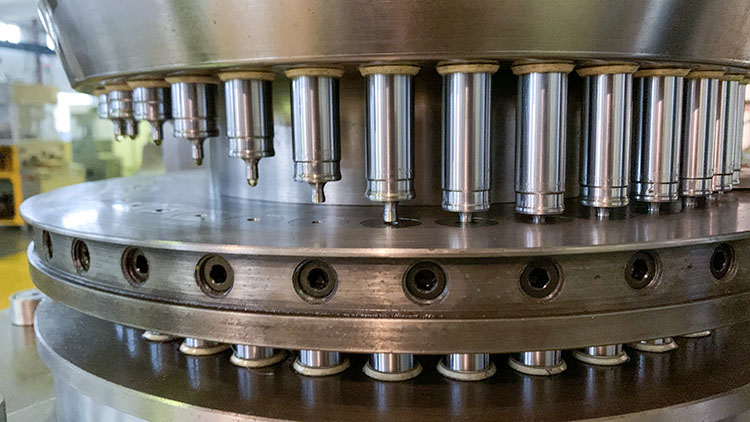 According to the use of different equipment, there are single-blank press die, rotary press die, flower basket press die and press die;
There are alloy steel stamping die, cemented carbide stamping die, ceramic stamping die, chrome plating, titanium plating punching die, the most common alloy steel materials for domestic stamping die are: GCr15,Crl2MoV,CrWuMn,9Mn2V,9CrSi; the most common materials for imported stamping die are: A2、O1、S1、S7、PHG.S、PHG-P.
There are ZP standard (GB12253.90) punching die, IPT international standard punching die, EU standard punching die and all kinds of non-standard special sheet press punching die and battery ring punching die ;(high speed sheet press punching die standard JB/T20080.1-2006(T series) recently passed the examination)
Because of its different standard and machine style, single punching die and rotary tablet press die are divided. The die of single punch and rotary tablet press can be divided into circular die and special-shaped die according to the specifications, diameter and shape of tablet.
Circular punch: shallow arc punch, deep arc punch, oblique flat round punch, pure flat round punch: geometry other than circular shape, such as ellipse, bond shape (capsule shape), triangle and other specific needs of the punch, can be customized according to the requirements of the demand side.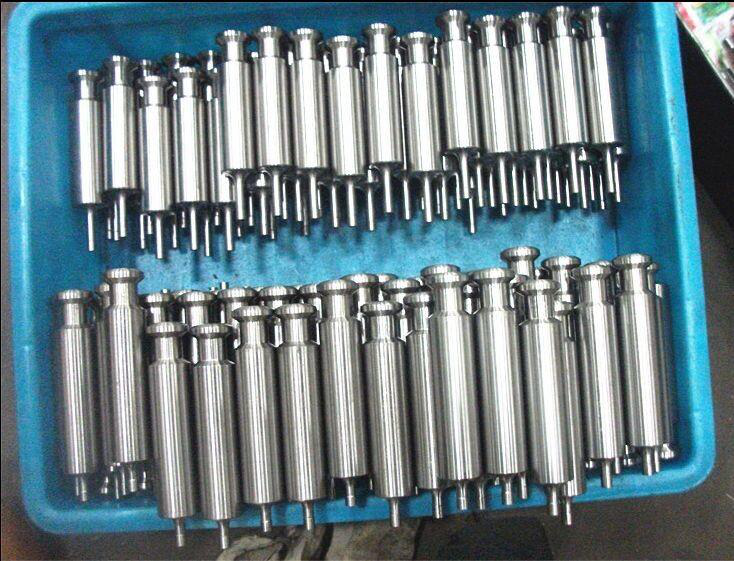 Material for punching
GrCr15 bearing steel;
Generally, most of the bearing steel is a low speed sheet press at the end of 70-80 years. This kind of sheet press is mainly precision, rotation speed is not fast, die size accuracy is not high, easy to process. At present, the use of such equipment in the domestic volume is still large, mainly pressure Chinese medicine, because Chinese medicine has different degrees of corrosion to the mold, mold often need to be replaced, in Chongming County, Shanghai has a special production of low-speed mold manufacturers, About 10, the price is also very cheap 30-35 per pair. Because the price can not buy, the mold processing method is also very rough slot. In addition to Shanghai to receive such mold orders, other mold manufacturers are basically not responsible for such mold.
6CrW2Si materials;
6CrW2Si materials are widely used in domestic high-speed rotary sheet press die ,6CrW2Si are formed by adding a certain amount of tungsten on the basis of chromium silicon steel. Tungsten is added to many materials, mainly because tungsten is very wear-resistant and has high hardness. Tungsten is added to the machined NC tool. I've seen it before. Scenic spot merchants sell kitchen knives for deduction and use kitchen knives to cut iron, a wire is cut off, and the knife has no trace. This is to add tungsten to the kitchen knife material.
The general use of 6 CrW2Si of material mold, are high-speed tablet press, because low-speed tablet press use 6 CrW2Si cost is too high, and the effect of Chinese medicine press is limited. At present, the price of high-speed tablet press mold is very stable, has not increased for 10 years, not only did not rise, fierce competition of individual manufacturers also reduced prices. Domestic several mainstream mold suppliers quality is basically the same, do well in the details can be seen. In general, the pharmaceutical factory received the mold will not be tested each, so the mold tolerance is critical. If each go according to the original factory drawings, it is estimated that there will be a lot of defective products.
S7 imported materials;
When it comes to imported materials, we must think that imported sheet press uses imported materials.
At present, the imported sheet press includes the whole machine assembled in China, such as Shandong Xinma (formerly Italy Ima- kilian), Fette, Manesty, GEA Courtoy, Kikusui, Korsch and so on.
This imported material is manufactured by Fent Coke Company in the United States, which means that only materials imported from the United States can be called S7, No other country can S7, Because each country has its own steel brand, then the problem arises. Domestic mainstream sheet press mold suppliers, as long as you say imported sheet press, and you are using imported materials S7, Can they provide relevant information and import documents from Fent Coke Company, I don't think so. Now many domestic pharmaceutical companies on FDA project, FDA all contact with the sheet to provide material proof. So how to identify S7 materials, of course, S7 material and 6 CrW2Si material obvious price is not the same, mold at least double. So the manufacturers who buy imported tablet press do not care about the price of the mold, in fact, the quality of the mold has not really improved much.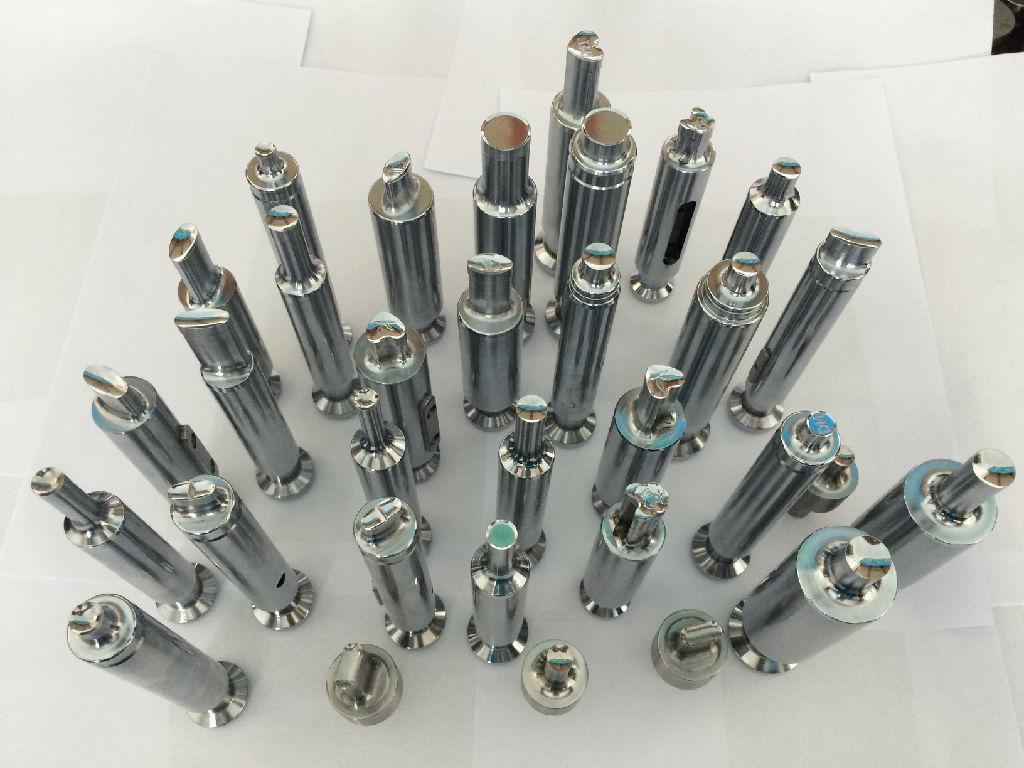 Imported mould materials;
The so-called imported mold materials, is the mold directly imported from abroad to China, then foreign mold suppliers, what materials. Foreign use of materials more changes, mainly according to the characteristics of the sheet selection of different materials, materials such as S7,H13,O1,D2,S440.
Why are foreign S7 materials good if foreign mold suppliers and domestic mold suppliers also use S7 materials, because the process of steelmaking is very different, followed by heat treatment. If steel and heat treatment control is not good, mold polishing is useless, domestic pharmaceutical factory engineers intuitive impression is that the mold polishing is very good, very bright. In fact, the mold can be polished to a certain extent, there is no need to polish the body and mirror, the longer the polishing time is affected by the steel skin.
We often see imported molds abroad, the finish is not as bright as the polishing of domestic molds, we think that the imported molds are only the same, we do not think of the cost of labor in Europe and the United States how expensive.
Look at the quality of a mold, just like a car tire, if you don't look at the tire brand, you ca n' t see it on the same car, you have to run for a while to see it, and the mold is the same. You have to keep pressing to see good and bad.